On Sunday 13th of November 2022 the National Party held its annual Ard Fheis in the Lough Erne Resort Hotel in Fermanagh. This is not the first time we have used this venue and previous to this event, as with National Party events throughout Ireland, it has been without negative incident of any kind. However this year was to be different by the design of other persons and organisations.
With a clear intention to disrupt using extreme violence a highly organised though clumsily executed attempt was made not only to disrupt or prevent the progress of our annual political convention but to do so in numbers and dramatic force. At least one bus was hired to bring agitators to the Resort and there are reliable accounts that other vehicles were used for transport there too. That the agitators intended not to protest but to viciously assault was apparent immediately from the visible possession of weapons, in particular hammers and broken bottles, with some as yet unverified accounts that knives were brought as well. A relatively brief and small scale confrontation outside the Hotel was followed by the entry of relatively large numbers into the building itself where they made their way directly towards the registration area leading to the conference room. The timing alone, just as registration was beginning indicates that the agitators hoped to catch delegates individually or in smaller numbers than would eventually be present.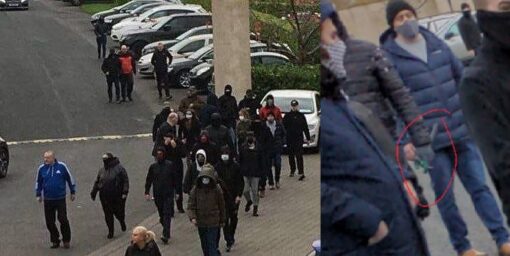 In any case the bulk of the group which numbered somewhere between 30 and 40 people, men and possibly some women, made it as far as the outer door of the registration area, beyond which was the hall leading to the conference room, where they with savage motive and method attacked those who attempted and succeeded in holding the door closed and secure. The glass of the door was smashed with a thrown fire extinguisher which was subsequently used to spray in the faces of the delegates. The use of hammers was again evident. The result, as might be imagined was malicious mayhem. The defending delegates, a handful of young men of great courage who we can all applaud both for their bravery and discipline held the line and thus prevented what could have been a much worse situation. There were women and young children present in the main conference room and what might have happened had the agitators entered can only be guessed at. The faces of hate were indicative of the horrendous possibilities.
The attacks on the door defenders alone indicate intent and some success to inflict grievous bodily harm. The prompt response of the PSNI undoubtedly prevented what would inevitably have been much more distressing. As it was, 5 men were taken to hospital with injuries including punches, lacerations, blunt force trauma to the head and sliced hand tendons. The latter victim was kept in hospital for two days and surgery to re-attach tendons was required. Whether he will make a full recovery is still uncertain.
Order having been finally restored the Ard Fheis resumed as normal other than to make reference to the violence. All speakers billed to address delivered their speeches as they would normally and otherwise have done. Indeed apart from the failed attempt at disruption it could easily be described as a very successful event.
One custodial arrest has already been made of the Leftist agitators, we expect more to follow and statements were taken by the police, video footage made available to them as well as photographs. Many of the criminals are clearly identifiable.
While it has been common practice for Leftists to make anonymous and not so anonymous threats in the past against National Party members individually both North and South and to make clear their willingness and intent to use violence to, as they refer to it, "de-platform" opponents, Sunday marks a new departure and a shocking escalation on previous attacks or threats. Undoubtedly if they had succeeded in their intentions there would have been many more serious injuries, and the weaponry employed indicates that lives could have been lost. This was not a political altercation, it was an organised terrorist attack.